Israel has got to be the worst place in the world to fly a private plane. The restricted military skies, the interrigating traffic control and senceless beurocracy enables our authorities to make flying as misserable as possible.
My superior officer in the Air Force crashed a Cesna plane with Israeli superstar Ofra Haza on board. He is the man who let me hold the stick every time I hitch-hiked a ride to the base with him, paving the way for me to become a pilot myself. After every landing I sang (to myself):
"Alive Alive Alive, yes I'm still Alive"
(One of her songs, runner-up of Eurovision 1983)
THE GOLDEN RULE :
You push the stick, the houses become bigger !
You pull the stick, the houses become smaller !
You keep on pulling, they become bigger again !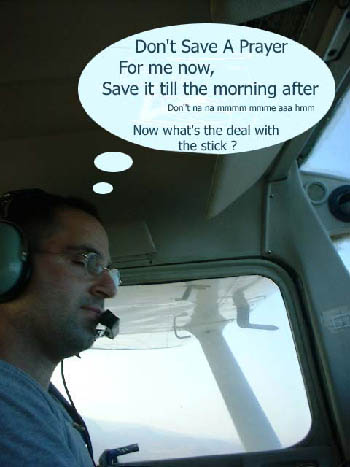 Lost Above Sea,
In March 2002 I flew to a soccer game in Cyprus, without a GPS or proper serviceable Navigation Aids. When reporting above a certain check-point on the Meditteranean (by calculations), the regional control centre replied (with heavy sarcasim in his voice):
"No You're Not ! We read you 22 miles off coarse" (the flight itself is only 154 miles!)
BeechCraft Bonanza : A cadilac of the air.
( think the boss is gonna let me take it away for the weekend ? )
My brother Chuck & I on our way to another soccer match in Cyprus ( he's the single idiot in the world who loves to fly with me!). Oct 2002.
What A Gang !
Erez, Oron & Myself - three pilots on the right wing of a Bonanza - yaaaikks - what a load !